APRIL 2 - 3, 2020
Atlantic Heavy Equipment Show 2020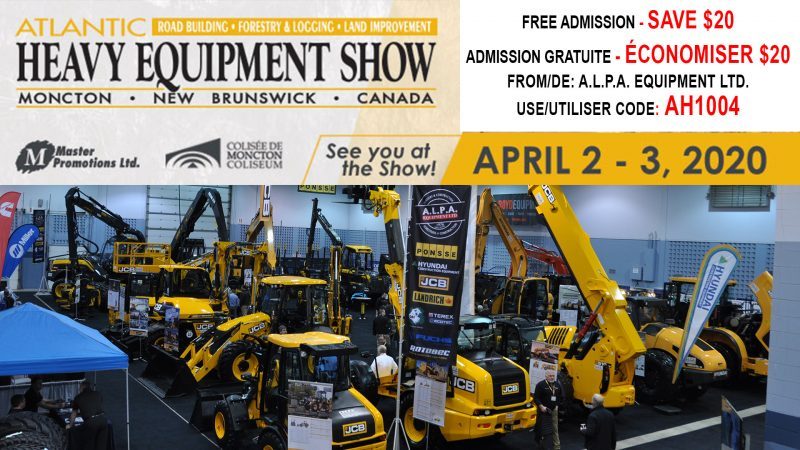 ONLINE REGISTRATION - ATLANTIC HEAVY EQUIPMENT SHOW
If you register by March 19th, 2020 your badge will be mailed to you. Badges will be
mailed 3 to 4 weeks before the show, where time permits. If you do not receive your
badge in the mail or you register after this date, then please print off a copy of your
registration confirmation email and present it at the Pre-Registration counter at
the show.
REGISTER ONLINE
USE CODE - AH1004
---
PONSSE 50TH ANNIVERSARY ROADSHOW LETS EVERYONE CELEBRATE WITH 2 STOPS IN ATLANTIC CANADA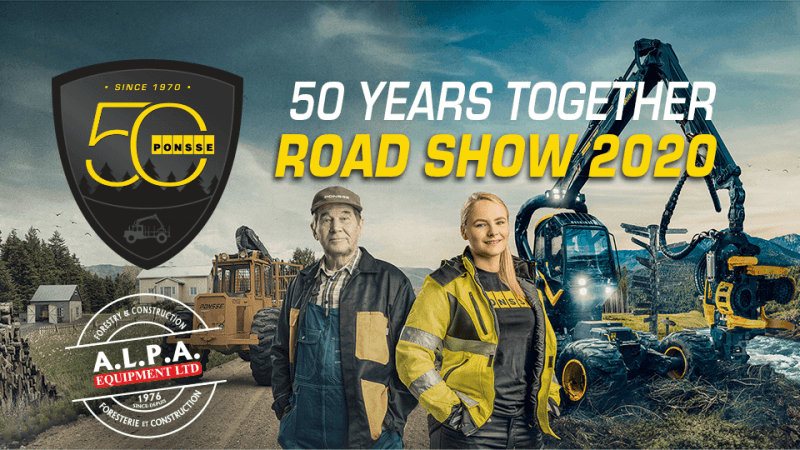 Our 50th anniversary roadshow will travel round the world, stopping at different logging sites and at more than 100 different events in 28 countries. Our European roadshow will start from Finland on 23 January and end at the FinnMETKO 2020 exhibition. We will also visit various logging sites in South and North America, Russia, Asia and Australia. During our roadshow, we will collect feedback from our customers and demonstrate our new products and services. A.L.P.A. Equipment Ltd. is excited to also be celebrating 20 years with Ponsse by hosting two roadshows in Moncton New Brunswick, and Balmoral, NB. The road show is a great opportunity for forestry professionals and operators to demo some of the new Ponsse equipment, learn from industry experts all while having a bit of fun with the team at A.L.P.A. and Ponsse. You do not want to miss out on this great event, be sure to contact your Ponsse representative at A.L.P.A. Equipment Ltd.
KEY DETAILS
FIRST STOP:  MONCTON, NB 29, 30 MAY 2020
SECOND STOP: BALMORAL, NB 5, 6 JUNE 2020
REGISTRATION: Contact your Ponsse Rep
Jasmin Leblanc (506) 685-0674
Danny Bouchard (506) 740-1815
Marc Willett (506) 874-8329
Gerry Curtis (506) 461-3830
Mark Richard (506) 447-0916
Ashlee Manning (902) 956-4362